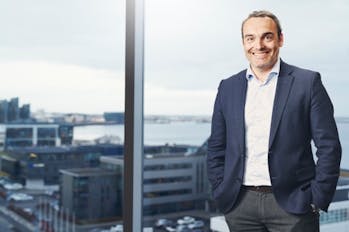 Jens Meinhard Rasmussen
Chairman
Jens Meinhard Rasmussen was first elected as board member in May 2014.Jens Meinhard Rasmussen is the CEO of Skansi Offshore, which is a company servicing gas and oil vessels, since 2006. Previously Jens Meinhard was a shipbroker at Atlantic shipping and before that first officer on Bornholmstrafiken. Jens Meinhard is also the Chairman of the Board of Smyril Line A/P and the Faroese Merchant Ship-owners´ Association, along with being a board member at the International Chamber of Shipping.Jens Meinhard has a Cand. jur. degree from the University in Kobenhagen and is a master mariner from Vinnuháskúlin Tórshavn. Jens Meinhard does not own shares in Skeljungur.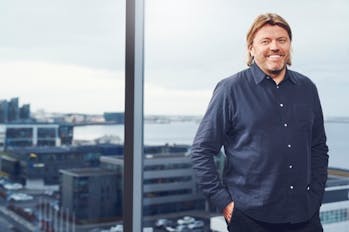 Jón Ásgeir Jóhannesson
Director
Jón Ásgeir Jóhannesson is an independent investor and advisor. He is also an alternate to the Board of 365 miðlar ehf., which is a publishing company, and the holder of power of procuration at Apogee ehf., which is a financial service. Jón Ásgeir operates both in Iceland and Britain. He founded with his father the food store chain Bónus in 1989, which later merged with Hagkaup food store chain to become Hagar. Bónus and Hagkaup, under Jón Ásgeirs ́ lead, founded Orkan, which is now Skeljungur ́s oil retail brand, and Jón Ásgeir ́s company Baugur later became one of Skeljungur ́s biggest shareholders. As an example of other companies that Jón Ásgeir has owned there are Baugur Group, House of Fraser, Big Food Group, Hamleys, Magazin du Nord and Karen Millen. Jón Ásgeir has been the CEO and the Chairman of the Board of Hagar. Jón Ásgeir has a superior knowledge of retail, and of transformation of real estate. Jón Ásgeir has been a part of various operations, small and large, and has a long experience of running companies. Jón Ásgeir has a college degree from the Commercial College of Iceland.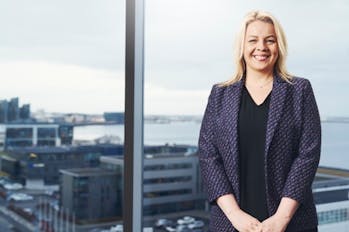 Birna Ósk Einarsdóttir
Director
Birna Ósk Einarsdóttir was first elected as board member in May 2015. Birna Ósk Einarsdóttir is the Chief Service and Customer Experience at Icelandair hf. Previously she was the Director of marketing and business development at Landsvirkjun, from 2017-2018, and prior to that Birna had various roles within Síminn hf. since 2001 among them managing director of sales and service, head of marketing, head of project management, human resources and public relations.  Birna has an AMP degree from IESE Business School, M.Sc. degree in Strategic Management from the University of Iceland and a B.Sc. degree in Business Administration from Reykjavík University. Birna does not own shares in Skeljungur.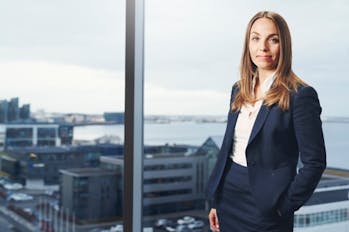 Ata Maria Bærentsen
Director
Ata Maria Bærentsen is the Senior Legal Counsel and Board's and Management's secretary at NNIT A/S, which is a listed Danish IT company. Previously Ata was the Senior Legal Counsel at Copenhagen Airports (A/S) and before that the Attorney at law at Gorrissen Federspiel law firm in Copenhagen. Ata also worked as Legal counsel at the Ministry of Foreign Affairs of Denmark, and Legal assistant for a Faroese MP in the Danish Parliament. Ata has a Cand. Jur degree from Copenhagen University, Attorney-at-law from The Danish Bar and Law Society .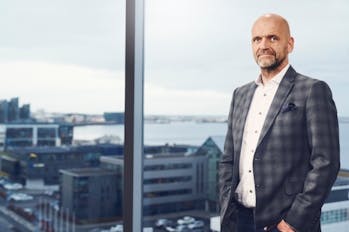 Þórarinn Arnar Sævarsson
Director
Þórarinn Arnar Sævarsson is a certified real estate agent, the operating regional director of RE/MAX in Iceland and the Chairman of the Board of Kaldalón hf., an investment and real estate development company. He is also on the Board of RPF ehf., Loran ehf. And IREF ehf., which invest in real estates and securities, Sentor ehf., which is a real estate agency, and Iceland Rent ehf., which is in tourism. Þórarinn is also an advisor at Kontakt corporate advisors. Þórarinn has a long experience from the real estate market, purchasing, sales, conversion and development of real estate, along with investment projects at consultancy, innovation and technology companies. He has a long experience ofthe Icelandic business sector and has a strong social network. Þórarinn ́s knowledge of the real estate business and operations is considerable, both in Iceland and abroad. Þórarinn also has a degree from the Marine Engineering Collage of Iceland and the Vessel Officer School of Iceland.