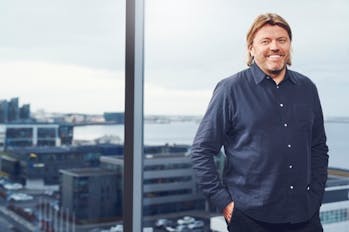 Jón Ásgeir Jóhannesson
Chairman
Jón Ásgeir Jóhannesson is an independent investor and advisor. He is also an alternate to the Board of 365 miðlar ehf., which is a publishing company, and the holder of power of procuration at Apogee ehf., which is a financial service. Jón Ásgeir operates both in Iceland and Britain. He founded with his father the food store chain Bónus in 1989, which later merged with Hagkaup food store chain to become Hagar. Bónus and Hagkaup, under Jón Ásgeirs ́ lead, founded Orkan, which is now Skeljungur ́s oil retail brand, and Jón Ásgeir ́s company Baugur later became one of Skeljungur ́s biggest shareholders. As an example of other companies that Jón Ásgeir has owned there are Baugur Group, House of Fraser, Big Food Group, Hamleys, Magazin du Nord and Karen Millen. Jón Ásgeir has been the CEO and the Chairman of the Board of Hagar. Jón Ásgeir has a superior knowledge of retail, and of transformation of real estate. Jón Ásgeir has been a part of various operations, small and large, and has a long experience of running companies. Jón Ásgeir has a college degree from the Commercial College of Iceland.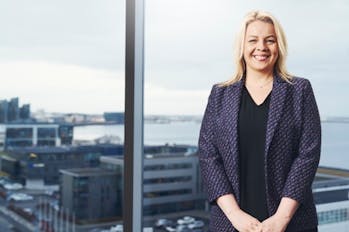 Birna Ósk Einarsdóttir
Vice-Chairman
Birna Ósk Einarsdóttir was first elected as board member in May 2015. Birna Ósk Einarsdóttir is the Chief Service and Customer Experience at Icelandair hf. Previously she was the Director of marketing and business development at Landsvirkjun, from 2017-2018, and prior to that Birna had various roles within Síminn hf. since 2001 among them managing director of sales and service, head of marketing, head of project management, human resources and public relations.  Birna has an AMP degree from IESE Business School, M.Sc. degree in Strategic Management from the University of Iceland and a B.Sc. degree in Business Administration from Reykjavík University. Birna does not own shares in Skeljungur.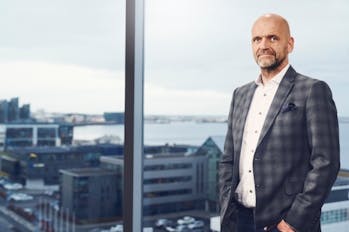 Þórarinn Arnar Sævarsson
Director
Þórarinn Arnar Sævarsson is a certified real estate agent, the operating regional director of RE/MAX in Iceland and the Chairman of the Board of Kaldalón hf., an investment and real estate development company. He is also on the Board of RPF ehf., Loran ehf. And IREF ehf., which invest in real estates and securities, Sentor ehf., which is a real estate agency, and Iceland Rent ehf., which is in tourism. Þórarinn is also an advisor at Kontakt corporate advisors. Þórarinn has a long experience from the real estate market, purchasing, sales, conversion and development of real estate, along with investment projects at consultancy, innovation and technology companies. He has a long experience ofthe Icelandic business sector and has a strong social network. Þórarinn ́s knowledge of the real estate business and operations is considerable, both in Iceland and abroad. Þórarinn also has a degree from the Marine Engineering Collage of Iceland and the Vessel Officer School of Iceland.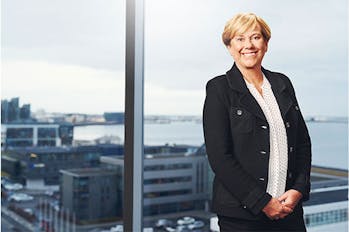 Dagný Halldórsdóttir
Director
Dagný is formerly the founder and managing director of DH Samskipti ehf., 2011-2017 and designed and managed Pyngjan, the first Mobile Pay solution in Iceland (now SíminnPay). Previously, she was the deputy managing director of Neyðarlínan ohf. [emergency response operation] and deputy director of Íslandssími hf. (now Vodafone) and founder and managing director of Skima hf., an innovator in internet services in Iceland. Dagný was a board member and subsequently chairman of the board of ISB Holding ehf. in 2011-2016, a holding company owned by Glitnir Bank and controlling nearly all the shares in Íslandsbanki. Dagný has also served on a number of company boards, such as Advania MobilePay ehf., Kaffitár ehf., Skipti hf. and Míla ehf.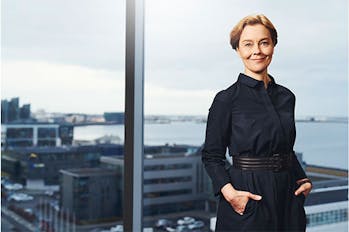 Elín Jónsdóttir
Director
Elín is the Chairman of the board of directors of Borgun hf. and serves on the board of directors of the Women's Shelter. She formerly worked as head of the VÍB Asset Management division at Íslandsbanki in 2014-2017 and served on the Bank's Executive Board. Prior to that she had worked as Director of the Icelandic State Financial Investments (ISFI), managing director of Arev, a securities company, and a lawyer at the Financial Supervisory Authority. Elín has served on a number of company boards, more often than not as chairman, including as chairman of the board of Tryggingamiðstöðin [insurance company] and Reginn [real estate company] in 2012-2104.
Shareholders can submit their views or submit questions to the Board of Directors via e-mail address stjorn@skeljungur.is, which is supervised by the Secretary of the Board. The secretary of the board notifies the board of any proposals or questions of shareholders and the board oversees the company's response to them.